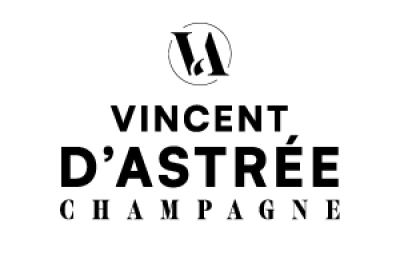 Champagne Vincent d'Astrée
148 rue Léon Bourgeois
51530 PIERRY France
+33 3 52 62 04 10

Champagne Vincent d'Astrée
House
In the heart of the region's vineyards on the edge of Epernay, the capital of Champagne, lies Pierry, a typical village that bears witness to the area's rich history.

In 1956, a handful of winegrowers wished to promote their grapes and so set up the Pierry Cooperative. For over 60 years, the adventure has continued to unfold on the southern slopes of Epernay.

They decided to offer up their project to the patronage of St Vincent and the benevolence of the stars. And thus was born the Maison Vincent d'Astrée.
Wines
Today, the three Champagne grape varieties - Meunier (55%), Pinot Noir (20%) and Chardonnay (25%) – are carefully tended on a "Premier-Cru" vineyard to produce authentic, rich and varied cuvees thanks to the expertise of a team led by Patrick Boivin, a staunch defender of local champagne-making traditions and master of modern winemaking techniques.
Attendees to Champagne Lounge
Champagne Lounge 2018
Champagne Lounge 2019
Champagne Lounge 2020
Champagne Lounge Asia Singapour 2018
ALCOHOL ABUSE IS DANGEROUS FOR HEALTH, CONSUME WITH MODERATION.