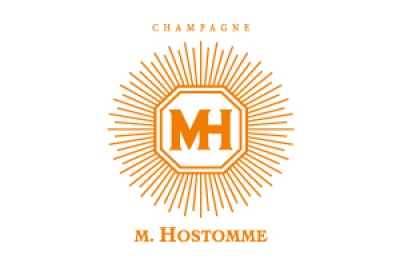 Champagne M. Hostomme
5 rue de l'Allée
51530 Chouilly France
+33 3 26 55 40 79

Contact email
Champagne M. Hostomme
Vallee de la Marne, Côte des blancs, Montagne de Reims
House
Champagne HOSTOMME is based in Chouilly Grand Cru, in the heart of the Côte des Blancs, home for Chardonnay. In 1930, Paul HOSTOMME introduced his son Marcel to the winemaking techniques and they produced their first vintage under the M.Hostommebrand. Today, the great-grand-son of Paul, Laurent HOSTOMME and his wife Chrystelle are in control of the family business, which for three generations before him have seen evolving, expanding and diversifying the vineyard and the Champagne HOSTOMME range.

Actual production respects the tradition and vine culture, set up by the four generations of winemakers.

Recently the family business has been rewarded for its commitment to responsible viticulture by the certifications Haute Valeur Environnementale & Développement Durable. Today, the goal is to perpetuate the family know-how and to keep each year all the aromas and flavors of the wines which you enjoy.
Wines
Our diversified wineyard allows us to offer a traditional champagne coming from a harmonious assembling of the three Champagne varieties: Chardonnay, Pinot Noir and Pinot Meunier, which confer to the Tradition Cuvée its wonderful balance. Our range reaches then naturally from Blanc de Blancs Grand Cru, Cuvée Origine, a blanc de Blanc Grand Cru with mineral accents.

Then comes the Reserve, a blanc de blancs Grand Cru old wineyard which is caracterised by its fineness, to recommand for a prestige aperitif.

Perfect is a blanc de blancs Extra Brut. This purist cuvée ist dedicated to the Champagne amateurs of natural Champagne, a real hymn to Chardonnay in which comes out the expression of the subtile minerality of Champagne chalky grounds, mixed with delicate aromas of citrus.

A blanc de blancs 2008 with some richer aromas and a developped structure. And a bleed rosé made of pinot noir and pinot meunier, which completes so well our scale.For your exceptional moments, you'd discover our cuvées H06 Brut Nature 1er Cru Brut Nature as well as our cuvée Abysse Blanc de Blancs Grand Cru Extra Brut , which after 48 months ageing in our cellars spends some 12 months more submerged in seawater in French Brittany at a 60 m depth.

This year we shall introduce the cuvée Arpent Extra Brut grown on a sole parcel, in a assembling of the three traditional varieties plus two forgotten varieties.
Attendees to Champagne Lounge
Champagne Lounge 2018
Champagne Lounge 2019
Champagne Lounge 2020
ALCOHOL ABUSE IS DANGEROUS FOR HEALTH, CONSUME WITH MODERATION.