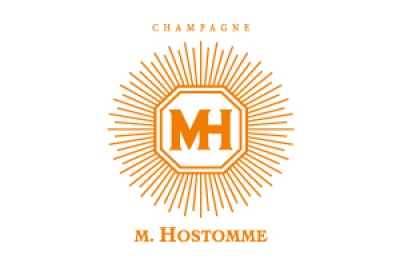 Champagne M. Hostomme
5 rue de l'Allée
51530 Chouilly France
+33 3 26 55 40 79

Champagne M. Hostomme
House
Champagne HOSTOMME is based in Chouilly Grand Cru, in the heart of the Côte des Blancs, home for Chardonnay. In 1930, Paul HOSTOMME introduced his son Marcel to the winemaking techniques and they produced their first vintage under the M. Hostomme name.

Today, Laurent Hostomme and his wife Chrystelle are in control of the family business, which for three generations before him have seen evolving, expanding, and diversifying the vineyard and the Champagne Hostomme range.

On our 15 hectares certified HVE (High Environmental Value), the Chardonnay from the Côte des Blancs meets Pinot Noir and Meunier from Vallée de la Marne for the best match. As a "Négociant-Manipulant" (Merchant- Vinifier), our diverse and regular procurement allows us to provide an outstanding mix as regards our vineyard's expressiveness.
Wines
Our diversified vineyard allows us to offer an exceptional champagne made from a harmonious blend of the three Champagne grape varieties: Chardonnay, Pinot Noir and Pinot Meunier, which give the Tradition cuvée its wonderful balance.

Our range then naturally extends to the Blanc de Blancs Grand Cru, a Cuvée Origine with mineral accents. Then comes the Reserve, a Blanc de Blancs Grand Cru from old vineyards which is characterised by its finesse, to be recommended for a prestigious aperitif.

For your exceptional moments, the Blanc de Blancs Grand Cru vintage 2009 with some richer aromas and a developed structure and finally, our Blanc de Noirs vintage 2018 Extra-brut 100% Pinot Noirs with a fruity character come straight from the Montagne de Reims terroir.

Always in search of innovation, Hostomme offers you our prestige cuvée: VIKKA Blanc de Blancs Grand Cru Extra Brut, Vintage 2009. After 11 years of ageing in our cellars, this cuvée is immersed for a further 12 months in the French Brittany Sea at a depth of 60 m.

This year at Prowein 2022, we will present two exceptional 2008 vintages. H08 Brut Nature 1er Cru and M08 Brut Nature Grand Cru, as well as a moment of immersion in the world of VIKKA on 15 and 16 May at 11 a.m. for the tasting of this exceptional cuvée in Hall 9 Stand C11.
Attendees to Champagne Lounge
Champagne Lounge 2018
Champagne Lounge 2019
Champagne Lounge 2020
Champagne Lounge 2022
ALCOHOL ABUSE IS DANGEROUS FOR HEALTH, CONSUME WITH MODERATION.