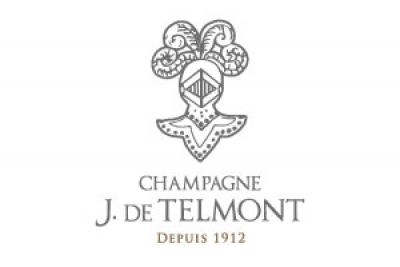 Champagne J. De Telmont
1 avenue de Champagne CS 80017
51480 DAMERY France

Champagne J. De Telmont
House
"Champagne J. de Telmont is a 100% family-owned House founded in Damery in 1912, and as such is one of the very few such left in the region. Today, the fourth generation of the Lhopital family, brother and sister Bertrand and Pascale, manage the estate in line with the philosophy of past generations which is dedicated to conviviality, hospitality and sharing. The family strives to preserve the unique know-how based on long tradition.

Champagne J. de Telmont's vineyard extending over 30 hectares (74 acres) in eight villages planted with the three classic Champagne grape varieties: Chardonnay, Pinot Noir and Pinot Meunier. The vineyard is worked in an environmentally respectful way; 5 hectares (12.4 acres) are conducted under biodynamic cultivation. In total, Champagne J. de Telmont uses the harvest of approximately 107 hectares (264 acres) of vineyard, stretching over 40 villages, located in the Grands, Premiers and other Crus.

For the wine-making process, Champagne J. de Telmont combines tradition and modern technology: - A large part of our vineyards conducted in biodynamic - Wine-making and maturation in small (205 l), large (50 hl) barrels and stainless still tanks - Second fermentation and ageing on natural cork - Champagnes produced in large formats - Ageing far above the legal requirements for all cuvees - An extensive collection of old vintages available, disgorged on order: The Heritage Collection The cuvees of Champagne J. de Telmont are the perfect reflection of the estate's philosophy. The numerous awards granted to our cuvees year after year are proof of its savoir-faire and honor the superb quality and consistency of its wines. "
Wines
"Champagne J. de Telmont produces several cuvees, with the common characteristics of fruitiness, richness and elegance. Every cuvee is a reflection of the House's winemaking savoir-faire and style. The consistency and high quality of a complete range of wines is the true reflection that J. de Telmont is worthy of its position among the top ranked Champagne Houses. Almost uniquely in Champagne, J. de Telmont offers a range of very old vintages from exceptional years from its private collection. They are silent testimony to our heritage and know-how, passed from generation to generation. For years these treasures from another century have been kept on their lees in still, deep cellars. "
Attendees to Champagne Lounge
Champagne Lounge Asia Hong Kong 2017
Champagne Lounge China 2018
ALCOHOL ABUSE IS DANGEROUS FOR HEALTH, CONSUME WITH MODERATION.