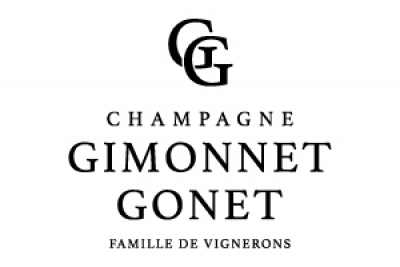 Champagne Gimonnet-Gonet
Les Bas des Auges
51190 Le Mesnil-Sur-Oger France
+33 9 82 29 93 15
https://www.champagne-gimonnet-gonet.com

Champagne Gimonnet-Gonet
House
Born into two families of vignerons, it is perhaps not surprising that Anne Gonet and Philippe Gimonnet decided to follow in the footsteps of their ancestors and in 1986 the first bottles of Champagne Gimonnet-Gonet were created. Since then their sole objective has been to produce champagnes of the highest possible quality.

In 2012 they were joined by their son, Charles, who shares the same commitment and desire to continue what was started many decades ago by previous generations of the family. Starting with just 5 hectares in 1986 our estate now covers 15 hectares, mainly in Grand Cru villages of La Côte des Blancs: Chouilly, Cramant, Oiry, Oger and Le-Mesnil-sur-Oger - the heartland of Chardonnay.

In addition we have vines in La Vallée de La Marne in the villages of Bouiquigny, Vincelles, Verneuil and Trélou where we cultivate the two remaining Champagne grape varietals: Pinot Noir and Pinot Meunier.

Our work in the winery is the natural progression of the work done previously in the vineyards; accordingly we wait until the grapes achieve their optimum maturity before we start harvesting and by doing so we preserve all their organoleptic quality.

In the winery we are equipped to press, separately, the grapes from each different village and even from each different plot whenever possible. Consequently we can achieve the utmost consistency and precision in our blends.
Wines
TRADITION : A blend of equal parts of Pinot Noir and Chardonnay that exhibits all the power and fruitiness of Pinot Noir married with the elegance and finesse of Chardonnay

CUVEE OR : The tiny bubbles enhance all the freshness, finesse and elegance of this non-vintage champagne made entirely of Chardonnay from Grand Cru vineyards in La Côte des Blancs.

EXTRA : A blend of Chardonnay from our finest Grand Cru vineyards in La Côte des Blancs, this champagne is the epitome of freshness, elegance and finesse.

ROSE : A blend of 93% Chardonnay and 7% Pinot Noir, very pale in colour and with wonderful elegance and lightness. The delicacy of the wine only enhances the lovely red fruit aromas.

MILLESIME 2012 : This vintage champagne is made exclusively of Chardonnay from the prestigious villages of Oiry and Le-Mesnil-sur-Oger. Only the very best grapes from the finest, south-facing vineyards are picked which gives this champagne its delightful aromas of toasted bread and almonds.

CARAT DU MESNIL 2010 : This outstanding champagne is made only in years in which we judge the quality of the harvest to be exceptional. The grapes come from vineyards in the village of Le-Mesnil-sur-Oger
Attendees to Champagne Lounge
Champagne Lounge 2019
Champagne Lounge 2020
ALCOHOL ABUSE IS DANGEROUS FOR HEALTH, CONSUME WITH MODERATION.