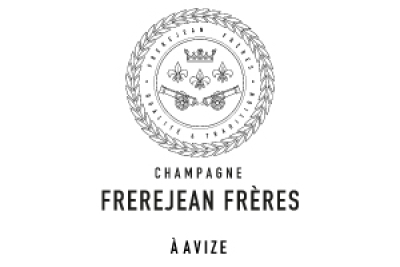 Champagne Frerejean Frères
9 rue Andre Pingat
51100 Reims France
+33 3 26 77 81 81
Champagne Frerejean Frères
House
A FAMILY PASSION
The Frerejean-Taittinger brothers grew up with love and respect for the Champagne tradition. They are building on wine-making family heritage and local expertise, to create craft Champagne inspired by modern luxury. Frerejean Frères champagnes are available around the world in many outlets.

KNOW-HOW
They obtained wines of character; both complex and elegant, produced with the best vine plots. The production process honors the land, with a low-chemical approach, using minimal pesticides on their vines and low levels of sulfites in the champagne.

CÔTE DES BLANCS
Rooted in the terroir of the Côte des Blancs, they use small-scale production methods that respect the land. In their quest for authenticity and purity, Frerejean Frères only works with grape varieties from Premier and Grand Cru vineyards on this terroir.

VILLAGE GRAND CRU
Frerejean Frères House was built in the Grand Cru village of Avize nestles between rolling hills of vines in the Côte des Blancs, Champagne. The chalky soil in the area produces the beautifully mineral Chardonnay in our Grands Vins de Champagne.
Wines
BRUT NV PREMIER CRU
Their signature wine is a blend of Chardonnay and Pinot Noir aged for a minimum of five years, producing an elegant Champagne that embodies the richness of the Frerejean Frères terroir. The low dosage and the late disgorgement gave a harmonious balanced and roundness.

Ideal with an aperitif.
_______

BLANC DE BLANCS NV PREMIER CRU
The blancs de blancs is crafted exclusively from Premier and Grand Cru Chardonnay grown in the Côte des Blancs. A blend of vintages and reserve wines contribute to generous and complex aromas to produce a beautifully clear and elegant Champagne.

Ideal with raw or grilled fish.
_______

VV26 NM GRAND CRU
Aged for eight years and sealed with a traditional agrafe, our Blanc des Blancs is creamy and mineral. They sourced Chardonnay grapes from 2008 and 2009 harvests on 90-year-old Grand Cru vieilles vignes, including vines that dates back to 1926, then leave them in oak barrels for seven months.

Ideal with black truffles linguine.
_______

EXTRA BRUT 2006 PREMIER CRU
The particularly hot weather of 2006 gave Chardonnay and Pinot noir rich and complex aromas to this superbe vintage. This cuvee is specific for its aging of 11 years in cellar, its late disgorgement and an extra low dosage.

Ideal with veal blanquette.
_______

ROSÉ 2012 PREMIER CRU
A vintage rosé characterized by the beautiful maturity and balanced acidity of 2012, an exceptional year for a vintage. A pale blush color and complex textures make their Rosé Blossom 2012 Premier Cru a journey of discovery.

Ideal with a black forest Gateau.
_______

CUVÉE DES HUSSARDS 2012 PREMIER CRU
Named in homage to Napoleon's light cavalry - who were the first to use sabrage - Cuvée des Hussards is powerful and expressive. They craft it from Pinot Noir and Chardonnay grapes, from vieilles vignes of more than 40 years old on chalky soils. 2012 is regarded as a vintage of reference.

Ideal with oysters.
Attendees to Champagne Lounge
Champagne Lounge 2018
Champagne Lounge 2019
Champagne Lounge 2020
ALCOHOL ABUSE IS DANGEROUS FOR HEALTH, CONSUME WITH MODERATION.