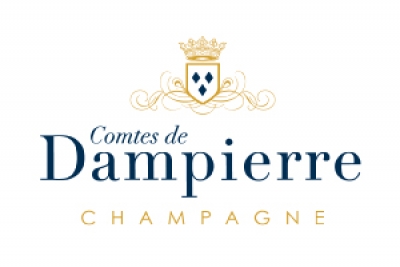 Champagne Comtes de Dampierre
22, rue Gambetta
51150 Bouzy France
+33 3 26 53 16 67

Champagne Comtes de Dampierre
House
History

For more than 700 years, the Dampierre family has had associations with the Champagne region. They have been seneschal in the 12th century of an extended area between Flanders and Burgundy.

In marrying Marie Boisseau in 1881, whose family was connected with several of the well-known trade companies in Champagne, Comte Audoin de Dampierre's great grand-father cemented the family ties with the production of champagne.

From then on, he brought to the trade his "savoir-faire" and the constant quest for quality and the best sourcing made the success Champagne Comtes de Dampierre is enjoying worldwide and which continues today.

Maintaining this tradition, the Champagne House Comtes de Dampierre selects only wines from Grand Cru and Premier Cru vineyards and only from two grape-varieties :
Chardonnay and Pinot Noir.
The Chardonnay grapes, very largely represented in the different cuvees are the specific signature of our range. The Pinot Noir grapes are reflecting our location in Bouzy, the heart of this grand cru area.
Wines
The Art of « Ficelage »

« Ficelage » is the ancestral method of tying the cork to the bottle with a thread and an age-old tradition that requires great skills: even an expert only completes 50 corks in an hour.

He ties the intricate knots whilst the thread is still attached to the ball and then cuts both ends; this process is repeated twice, forming a cross on the top of the cork.

In 1735, by royal statute, the "ficeleur" had to use three-stranded hemp thread for this purpose and even up to the First World War, all the corks of champagne bottles were attached with hemp thread and only, subsequently, with wire.
This traditional method of hand tying the cork with a lightly waxed hemp thread is used for the Vintage Collection, a method, which requires time and skill.
Attendees to Champagne Lounge
ALCOHOL ABUSE IS DANGEROUS FOR HEALTH, CONSUME WITH MODERATION.