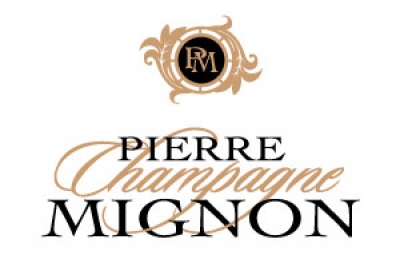 Champagne Pierre Mignon
5 rue des Grappes d'Or
51210 LE BREUIL France
+33 3 26 59 22 03

Champagne Pierre Mignon
House
The House PIERRE MIGNON is located in Le Breuil, the Mecca of the Pinot Meunier production, in the Marne valley. Coming out of a five generation old wine-growers, the house PIERRE MIGNON produces champagnes of exception, allying tradition with innovation. Pierre and Yveline MIGNON manage the company in collaboration of their two children: Céline, in charge of exportataion and marketing and Jean-Charles, in charge of the wineyards en the wines. The 16 ha wineyard is spread out in the Marne valley, the Epernay region and the Côte des Blancs. The chardonnay comes completing the Pinot Meunier and a part of PInot Noir. The spirit of the house is aiming excellence, quality and regularity beeing our main objectif for the uppest satisfaction of our customers. From about 420.000 bottles sold every year, a lot of them are delivered to prestigious buyers like Ladurée, the Elysée Palace, numerous ambassies and consulates, renowned hotels and restaurants . L'Oréal, Thierry Mugler, Azzaro are amongst our clients. Our champagnes do regularly get rewarded when participating to contests, like for example our Cuvée de Madame, which won the Trophée du Meilleur Effervescent at the Concours des Vinalies Internationales 2014.
Wines
The diversity of our terroirs allows us to offer a complete range in order to satisfy as well the amateurs of Pinot Meunier as well as those who prefer Chardonnay: Cuvée GRANDE RESERVE and BRUT ROSE with a majority of Pinot Meunier, gastronomy range comprising BRUT PRESTIGE, PRESTIGE ROSE DE SAIGNEE, CUVEE Zero Dosage, Blancs de Blancs Grand Cru - ANNEE DE MADAME vintage 2006 and ANNNE DE MADAME ROSE VINTAGE 2008. Discover our range of original and top range Cuvées: metallised Cuvées in partnership with Swarovski elements as well as floral Cuvées in a raffinated presentation: PRESTGE FEMINITY or MAGNOLIAS.
Attendees to Champagne Lounge
Champagne Lounge 2018
Champagne Lounge 2019
Champagne Lounge 2020
Champagne Lounge 2022
Champagne Lounge Asia Singapour 2018
ALCOHOL ABUSE IS DANGEROUS FOR HEALTH, CONSUME WITH MODERATION.