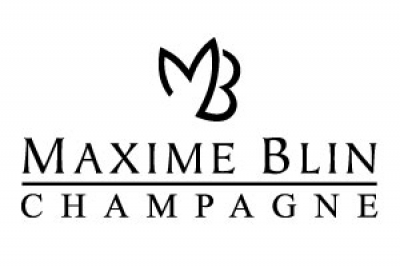 Champagne Maxime Blin
11 rue du Point du Jour
51140 TRIGNY France
+33 3 26 03 10 97
Champagne Maxime Blin
House
Fourth generation in a long line of wine-growers. Maxime Blin, young viticulturist who loves the land and the wine, vinifie his champagne on the family estate of 12 Ha.

Located in Trigny, in the heart of the Massif de Staint Thierry about 10 Km of Reims, he grows the three Champagne Grapes Varieties, Pinot Noir, Pinot Meunier, Chardonnay, on vines which have an average age of 20 years.

With passion and authenticity, from working on the land through shipping the bottles

The domaine produce around 100 000 bottles per year, and we are selling on Japan, Brazil, Togo, Benin, Singapore.

We control all the stapes of the production of the champagne, between the vine to the wine. I make all the vinification of the wine.

The control of the process, it is the assurance of the quality of the wine.
Wines
Brut Carte Blanche :
80% Meunier 20% Pinot Noir
Appearance : a true reflection of inherited expertise, its deep yellow color and fine bubbles are assets that will charm you as soon as you set eyes on this champagne.
Nose: The Carte Blanche offers up rustic accents of apples and straw.
Mouth: a revelation! A fresh wine that is ample, light and harmonious, cheerfully expressing various fruity aromas.

Brut Rosé:
100% Pinot Noir, rosé of blending
Appearance: a salmon-pink shade and a string of fine bubbles.
Nose: reveals seductive note of summer fruit and hints of fresh figs.
Mouth: you will be bewitched by its full bodied mouth, its length and aromas of summer fruit (cherry and blackcurrant) give the impression of savoring ethereal champagne.

Brut Millésime:
100% pinot Noir
This vintage from a unique year has matured in our cellars for several years.
Appearance: a very beautiful, rich, golden color.
Nose: an appealing bouquet bringing to mind dried fruits and an atmosphere of freshly-baked cake.
Mouth: seductive, with its elegant texture, attractive freshness and incredible aromatic clarity, with hints of honey, gingerbread and brioche.

Brut Grand Tradition:
90% Chardonnay 10 Pinot Noir
Appearance: its appealing amber yellow color and fine string of bubbles will seduce you straight away.
Nose: its radiant bouquet reveals notes of dried fruits with hints of quince, honey, hawthorn and lime flower.
Mouth: its intense aromas give way to strong, full-bodied flavors, revealing a very harmonious, rounded and well-balanced wine.

Cuvée Onirique (extra brut):
90% Pinot Noir 10% Chardonnay.
Appearance : this Champagne has a beautiful golden yellow color and fine bubbles.
Nose: its bouquet expresses the highly seductive aromas of fresh fruit and freshly-cut flowers.
Mouth: its mouth reveals strong, full-bodied and fruity flavors and great harmony. Simple, candid, lively and light, with a fantastic length in mouth.

Cuvée Authentique (Brut, Rosé de Saignée):
100% Pinot Noir
Appearance : a very elegant pink color.
Nose : its bouquet is discreet at first, then develops aromas of raspberry and cherry with floral notes of violet and rose.
Mouth: it begins with a superb attack to conclude on note of candied cherries.

Cuvée Maxime Blin (Brut):
1/3 Pinot Noir 1/3 Meunier 1/3 Chardonnay
Appearance : this cuvée de prestige, the flagship of our range, reveals a beautiful golden yellow color, very pleasing to the eye.
Nose: an appealing freshness that's an invitation to pleasure.
Mouth: you'll be immediately seduced by the wealth and diversity of its aromas of citrus fruit and dried fruit. You will be charmed by its elegance an harmony.
Attendees to Champagne Lounge
Champagne Lounge 2018
Champagne Lounge 2019
Champagne Lounge Asia Singapour 2018
ALCOHOL ABUSE IS DANGEROUS FOR HEALTH, CONSUME WITH MODERATION.